BALANCE DELUXE


Mid-Back Ergonomic Office Chair 5694
Adjusts to you and gives you a feeling of well-being and support
The LIFEFORM® Balance Deluxe Mid-Back chair is versatile, comfortable and looks great in any work environment. Whether you're buying a chair for work or study, our Balance Deluxe adjusts to you and gives you a feeling of well-being and support. With adjustable armrests, LIFE-Foam™ Memory Foam swivel arm pads, seat back and height adjustment - you'll be more comfortable and able to focus.

The Balance Deluxe features the LIFEFORM® Contour Seat with Front Waterfall Edge – our signature molded foam design – offering greater support and comfort with unrestricted blood circulation behind the knees. You'll stay productive while you're working and finish the day with less body fatigue. Our temperature and pressure-sensitive Memory Foam seat conforms to your body's unique contours to further reduce pressure on bones and joints.

View Balance Basic 5694
Balance Deluxe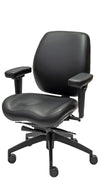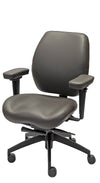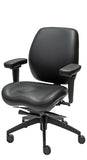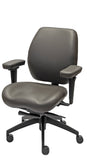 KEY FEATURES & BENEFITS
Your Chair Should Work For You
Keeping you comfortable and supporting better posture. The seat recline function on the Balance Deluxe Mid-Back office chair was designed with you – and your ergonomic comfort – in mind. With the Multi-Function Synchro-Glide Mechanism you can change (and lock) the angle of the recline which encourages blood flow through the pelvis. When shoulders are back, the chest is open, thereby exchanging more oxygenated blood to the brain. This helps you feel more alert and productive.
Ergonomic Back Support
The Balance Mid-Back Deluxe features a high-density foam backrest with a ratchet back height adjuster and an independent Schukra™ Lumbar Support system, providing incredible ergonomic stability to reduce back pain.

The back angle feature allows the backrest to move with you or to be reclined and locked. So you can sit back when you're not focused on a task, which also encourages blood flow through the pelvis.
Contoured Seat With LIFE-Foam™ Memory Foam
Contoured Seat With LIFE-Foam™ Memory Foam You can stay comfortable, be more focused and, ultimately, more productive. Our Front Waterfall Edge design promotes better circulation behind the knee. Add to that our signature Contour Seat frame which follows the shape of your body, combine this with LIFE-Foam™ Memory Foam which reduces pressure on the sit bones and soft tissue around the thigh and buttock area. And Voila! you have a chair that distributes your weight more evenly.

The seat slider adjustment allows you to adjust the seat depth. So if you have a taller frame, the seat pan included in the Balance Deluxe gives you up to two more inches of room. The optimum seat position should be a space of two fingers widths behind the knee, encouraging blood flow behind the knees.
Ergo Arm Pads
The Balance Deluxe office chair has upholstered LIFE-Foam™ Memory Foam swivel arm pads to keep you comfortable and reduce pain and pressure points on your arms, especially if you are prone to Carpal Tunnel Syndrome or Tendonitis. You can easily adjust the height, depth and width of our arm pads. With a chair that promotes better posture while being supportive, you'll notice your concentration and energy increase.
It's just what you've been waiting for.